Yesterday saw a very productive knitting session with myself, my fabulous
assistant Katie and Gina 'Mother With a Twist' at the needles of steel!!! It involved a copious sprinkling of glitter, cheese sandwiches and cherry cakes (pi
cked up from the corner shop...the man in there likes to call me "Dollar" because of my tarnished necklace that I acquired from a fancy dress shop...he is creepy and weird)! I'm not going to give too much away as that w
ill spoil the surprise of what's in store for SS09...so hold your horses...patience is a virtue, don't you know!
Gina came with a very special gift....I have an obsession with maps....I love them....so imagine my ear-piercing squeals of delight when she presented me with a gourmet map-print pillowcase!!! It's the best thing in the world!
Strangely, this isn't the only piece of map-orientated

paraphernalia

that I have received in the past week.....my chum

Jobot

unleashed a corker of an inflatable globe which can either serve as a

beach ball

or a nice bit of decorative art to transform any old room or shack into an all singing, all dancing,

el

rustico

, worldly paradise!!!
Check out the goods....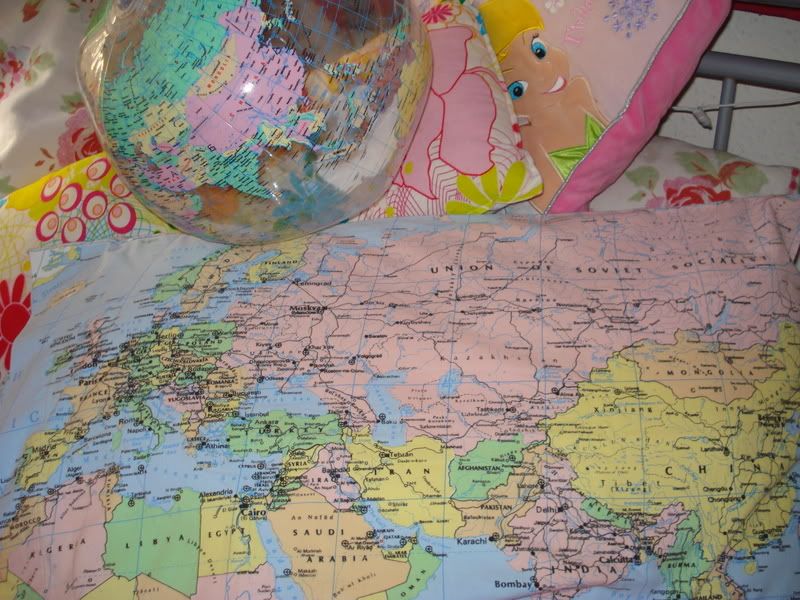 Love and

Mapssssssssss

,
Emma xxx